Essential kit & useful items
Maps – A map of the West Highland Way is a must, either separate or part of the many excellent guide books available. A number of the maps available display the route in multiple images on a single sheet.
Waste bags – Many of the stopping points along the way have toilets and bins, but you must be prepared to bag up any rubbish and carry it with you until you find an appropriate bin or recycling point to dispose of it, so bags for your litter are a must – preferably biodegradable!
Trowel – Similarly, when it comes to your own waste, if you're not near a toilet you're going to have to bury your poo. Therefore a small trowel is essential. For more information on doing the necessary in the countryside, check out the Scottish Outdoor Access Code.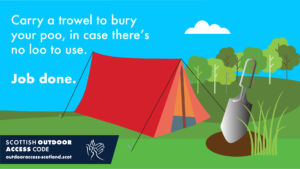 Refillable Water Bottle – A water bottle with enough water to take you to your next stop. There are also free refill points along the Way.
Provisions – Always carry:
a whistle to summon assistance in case of accidents
a torch (preferably a head-torch) with spare bulb and batteries
emergency food (high energy snacks such as chocolate, dried fruit, energy bars etc.)
a pen-knife or multi-tool
a watch with an alarm
Other useful items:
A pair of hiking poles can do a lot to ease the strain on your knees as well as helping keep your balance. You may also want sunglasses in summer or snowy conditions and binoculars for spotting wildlife along the Way.
A roll of gaffa tape can be a useful addition for emergency repairs on boots, sleeping bags, tents, ruck sacks etc.
First Aid Kit – Hopefully you'll never need it, but it is better to be prepared and a well-stocked but small First Aid Kit will help keep you safe on your journey (if you are using a bag carrying service, make sure your first aid kit is in your day pack). Important items for your kit are listed below, please always check with  your doctor before taking any medication:
aspirin/paracetamol
antihistamines for stings and bites
blister pads
good quality plasters or band aids
a bandage
elastic knee/ankle support
sterile dressings for cuts and wounds
antiseptic cream and wipes
adhesive tape
safety pins
scissors
Scotland is famous for its midges during the summer months and they can be extremely irritating. Carrying midge repellent/midge net is advisable.
Lastly don't forget to bring sun cream for those days under blue skies.
Rucksacks 
Depending on how you decide to walk the Way, will depend on how you carry your kit and how big a rucksack you'll need. Whatever size of bag, ensure it has a waterproof cover or liner bag to prevent your kit getting wet. The following guide should give you an indication of what you'll need.
Camping – You will need a rucksack large enough to accommodate your tent, sleeping bag, cooking utensils and food as well as your changes of clothing. The recommended capacity of rucksack is 65 – 75 litres.
Bunkhouses or Hostels – You may wish to carry a sleeping bag and cooking stove, although these facilities are normally available at most premises. A rucksack of around 40 – 60 litres should suffice.
Serviced Accommodation – If you make use of the many serviced accommodation providers along the route you will only need to carry key items such as, clothing, toiletries, first aid kit, maps, compass etc. For this, a rucksack of around 30 – 40 litres should accommodate your needs.
If you're not carrying a tent or sleeping bag, consider carrying an emergency bivi-bag or survival blanket.
You can also help support the West Highland Way by purchasing an official passport, allowing you to collect stamps as a souvenir.